HS2: Outrageous rail project will not benefit Wales, transport expert says
The UK government has approved the rail line linking London to Birmingham – and then on to Manchester and Leeds.
Passengers from north Wales may benefit from quicker journey times and HS2 may boost north-east Wales' economy.
The Welsh Government wants its "fair share" from HS2's billions in funding.
Department for Transport (DfT) figures estimate the south Wales economy could lose out by £200m per year once HS2 is finished due to inferior transport infrastructure.
The DfT forecasts the north-east Wales economy will be boosted by £50m annually by HS2's quicker journey times.
Faster journey times?
Trains between north Wales and London – which currently take about three hours and 45 minutes on average – could be about 30 minutes quicker when HS2 opens between Euston and Crewe – but it would mean changing at Crewe.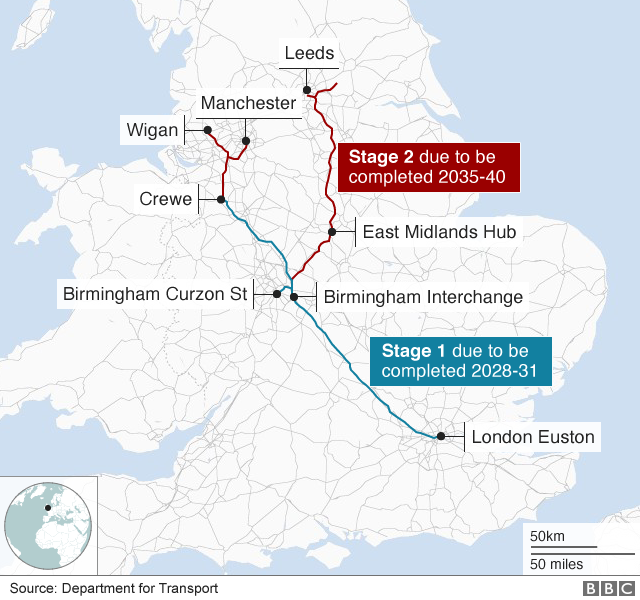 Prof Mark Barry, who helps advise the Welsh Government on transport, said HS2 "does not benefit Wales at all".
"As it is now, we're supporting a massive scheme in England with no benefit to Wales – and getting no funding. And that's outrageous," he said.
HS2 – the 470-mile, 225mph (360 km/h) project which is due to be completed by 2040 – is already over budget and behind schedule.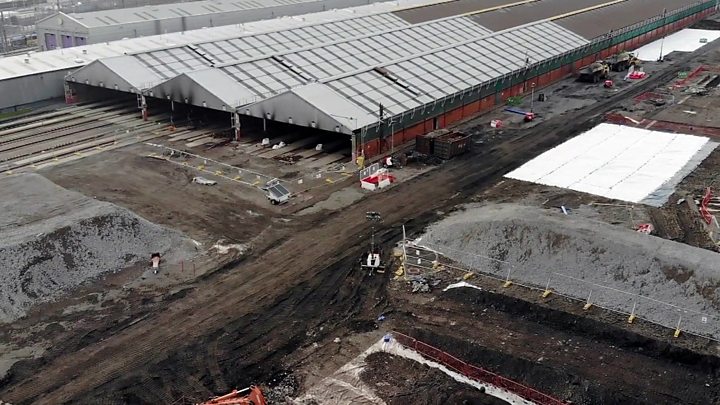 In a letter to the prime minister, Welsh First Minister Mark Drakeford said Wales had been been "systematically neglected" on rail investment, a fact underlined by the HS2 announcement.
Calling on Boris Johnson to "mitigate this" by extending HS2 services into Wales by 2027, he demanded investment on rail lines in Wales to Milford Haven and Holyhead by 2030.
Mr Drakeford also called for funding to improve rail lines in Wales to Milford Haven and Holyhead by 2030.
Downing Street has been asked to respond.
Earlier, in the Senedd, Mr Drakeford said the "Tories' great train robbery of Wales needs to come to an end. Of course money must come to Wales.
"We have 11% of the track, 20% of level crossings and we've had 2% of the funding over the last 10 years."
Why won't it help Wales?
Unlike in Scotland and Northern Ireland, rail infrastructure is not devolved in Wales.
This means Wales does not benefit from per capita funding the other UK nations get from big public spending projects in England.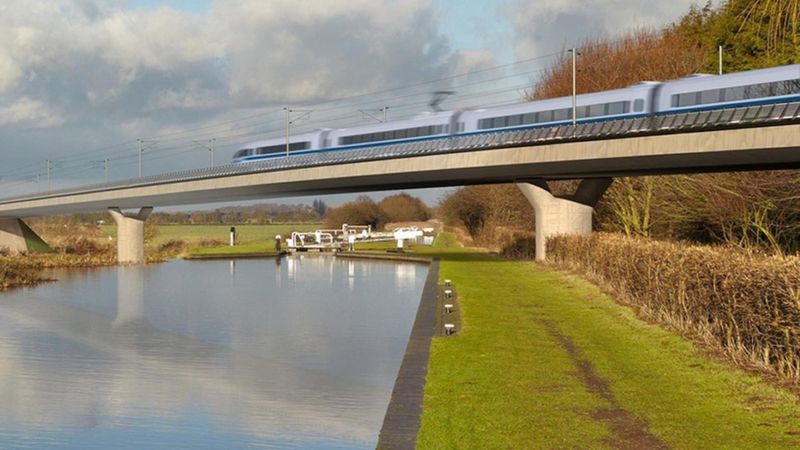 Analysis from BBC Wales political correspondent Felicity Evans
There's a long standing argument about whether Wales gets a fair deal on rail infrastructure funding.
The decision by the UK government to press ahead with HS2 will only intensify that argument.
Scotland and Northern Ireland have already received much more money than Wales as a consequence of the money already spent on the project.
That won't change (because rail infrastructure isn't devolved) unless the UK government proactively decides to change it.
UK ministers may point to other money for Wales in growth deals or the predicted boost to the economy of north-east Wales. But that won't be enough to settle this argument.

"There's no direct transport benefit of HS2 to Wales," added Prof Barry, the man who drew up the £738m South Wales Metro project.
"And as they're spending £100bn over 20 years on England, Scotland will be getting £10-£15bn from the Treasury – plus they are getting a transport benefit by better services to Scotland.
"So Wales gets a disbenefit and no money. The reality is we have to devolve rail powers to Wales to ensure we get more money and we can improve our services."

Wales has received about £755m as a result of HS2-linked funding so far, according to the Welsh Government.
The Welsh Secretary said the UK government was "investing record amounts in Wales' railway infrastructure".
Simon Hart MP said Network Rail would invest £1.5bn in Welsh railways between 2019 and 2024.
Welsh railways 'playing catch-up'
But there is cross-party condemnation for the HS2 in the Welsh assembly, with Plaid Cymru criticising the decision.
Not one piece of the #HS2 track will reach Wales.
Westminster claims that it is an 'England and Wales' project but is refusing to give Wales any funding to offset the cost of HS2 in England.
How is this fair?
Westminster does not work for Wales.— Adam Price (@Adamprice) February 11, 2020
Boris Johnson admitted the decision to continue Europe's most expensive infrastructure project had been "controversial and difficult".
He added: "The cost forecasts have exploded, but poor management to date has not detracted from the fundamental value of the project."
The south Wales main line between London and Cardiff is being electrified in a £2.8bn project – but Prof Barry said Wales needed quicker track, more line capacity and more stations.Click to see content: hs2_journey_times
"It shouldn't be all about how quick it takes to get to London," he added.
"Studies conclude the most important investment is within city regions – and we've got improvements to make in services around Cardiff and the valleys, Swansea and north-east Wales and upgrading the main lines.
"We've got 30 years of catch-up due to the lack of investment in Welsh railways."